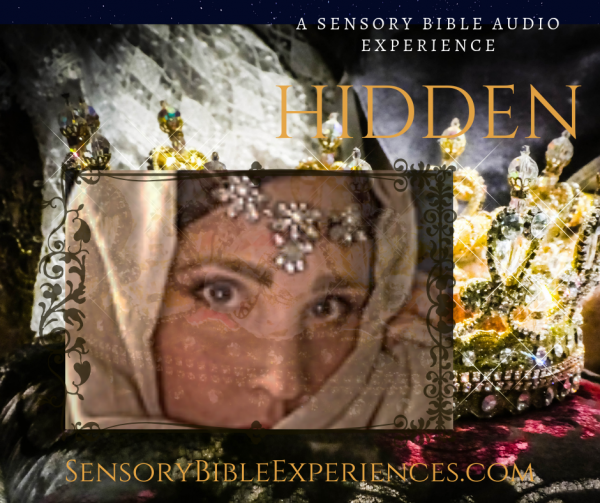 Our gift to you during this difficult time in quarantine: HIDDEN, A Sensory Bible Audio Experience absolutely FREE during April 2020!
The engaging audio experience is enhanced with digital music and sound effects which will immerse you in the world of Ancient Persia as the engaging story of Queen Esther's rise to power for the glory of her King unfolds! This is a family-friendly experience rooted in Biblical truth, with original script, lyrics, and direction by Sensory Bible Experiences and Living Arts Tabernacle Founder and Director, Selah Cohen.
Additional tracks available separately include a special message by Selah titled Come to the Banquet, and a bonus feature: The Hidden Cast Shares!
Welcome to the new SBE Store Page!
We are developing resources to enrich your study of His Word, enhance your worship of His Person, and encourage creatives for His purposes! Thank you and please share this page with your family and friends so they can be blessed as well! All proceeds go to support the SBE ministry and mission!
Pre-Order 2020 VISION: A Sensory Bible Planning Experience
2020 is bound to be a significant window in His timing! Sensory Bible Experiences is proud to announce pre-orders of 2020 VISION: A Sensory Bible Planning Experience, our first July 2020 - June 2021 Please subscribe to our updates for news. This is a guide to His appointed times, plus planning tools, lists, and a calendar with large boxes for plenty of notes or small square sticky notes which you can move around with ease! We will include a one-page general overview on each major Appointed Time and much more to help you Sense the wonder of Word!
---
---
---
---
Interested in HIDDEN: A Sensory Bible Journal Experience?
SBE is thrilled to announce this resource!! Join Selah Cohen, Founder and Director of Sensory Bible Experiences and Director of Living Arts Tabernacle as we help you enter into the world of a young girl who is swept up in Her King's plan, and given influence to fulfill her destiny for such a time as hers! Suggestions for journals, supplies, and techniques will be included in this video course. Please submit a contact form to share your interest and subscribe for updates. Find your identity and purpose in this enthralling story!
---
Living Arts Tabernacle: Reclaim Your Creative Levitical Role
Pre-Order Living Arts Tabernacle: Reclaim Your Creative Levitical Identity and Role
Our founder Selah Cohen is preparing a guide about identity, intimacy, and purpose for creatives of faith which shares the history of and vision for the Living Arts Tabernacle ministry, and will be full of insights in addition to wise counsel on discernment, growth, being set apart for the Master Creator's purposes, and more. Please submit a contact form about your interest and subscribe for updates.