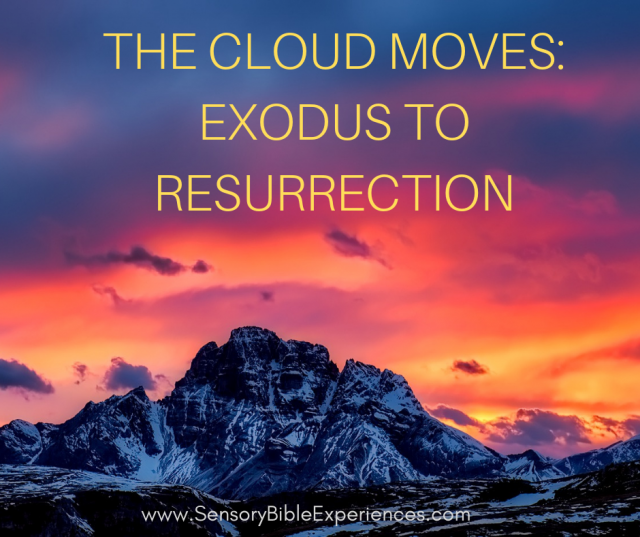 Exodus to Resurrection
by Selah Cohen
21 And the Lord went before them by day in a pillar of cloud to lead the way, and by night in a pillar of fire to give them light, so as to go by day and night. 22 He did not take away the pillar of cloud by day or the pillar of fire by night from before the people.
Exodus 13:21-22 NKJV
THE CLOUD MOVES FOR SBE!
It's Passover Eve and the cloud is moving! Our ministry is embarking on an exodus and new journey out of one season and into another - literally and figuratively! We are now a mobile production ministry going where He directs! We have been able to sound the shofar and pray over three cities in the South, attended Sight and Sound Theater's excellent production of Jesus, I will be attending Messiah Conference in Pennsylvania, and then we are heading to New England to visit with and share His love at a family event!
He has instructed me to share my testimony titled Nearly Blind to Vibrant Visionary, and other messages with groups, so let me know if this is of interest to you with a Contact Form. We also welcome and value your prayer support (let us know through the Contact Form), purchase support, and sponsorship. We will post more on all our adventures soon, but are busy working on new resources you can now pre-order like the new 2020 SBE Vision Planner and Hidden: A Sensory Bible Audio Experience!
HIS RADICAL OFFERING FOR OUR REST & RESURRECTION
Yeshua (Jesus) is the Living Prophecy fulfilled in the Passover - our personal Sensory Bible Experience - fitting and reminiscent of the original Exodus of the children of Israel from Egypt as tonight is Erev Pesach, or the first night of Passover. Moses pointed toward our True Liberator- Jesus (Yeshua). The blood of one lamb points to the blood of Another. Our faithful Passover Lamb, Shepherd, Deliverer, and Guide leads the way because He is The Only Way. He will be faithful to write the next chapter on the scroll of our hearts, sake our thirst with Living Water, and be our Pillar in the dark, and Cloud of protection in our day as we follow Him into this next chapter. We can drink the cups of Passover because He drank His cup, then became our sacrifice so Judgement could not enter in to destroy or kill these first born. He conquered the slavery of death as no one else could. He drank so He could give it all, rise again, and resurrect us from depravity.
The Sabbath also begins tonight, making this a very significant appointed time. May His Spirit lead you to rest in the powerful Passover revelation about His offering for your covering. The doorposts of your heart are covered with His atonement if you walk with the Lamb. If you don't yet and want to, ask Him into your heart in simple words with sincere motives, and please let us know so we can help you grow.
From our SBE family to yours: May you enter into a peaceful Passover in the Prince of Peace - Shabbat Shalom (may you enjoy the peace of the Sabbath) and Chag Sameach (may you have a good feast)!
Taking His Direction,
Selah Cohen
Founder and Director, Sensory Bible Experiences
More Scripture on Passover (Pesach) and The Feast of Unleavened Bread:
13 Now the blood shall be a sign for you on the houses where you are. And when I see the blood, I will pass over you; and the plague shall not be on you to destroy you when I strike the land of Egypt.
14 'So this day shall be to you a memorial; and you shall keep it as a feast to the Lord throughout your generations. You shall keep it as a feast by an everlasting ordinance. 15 Seven days you shall eat unleavened bread. On the first day you shall remove leaven from your houses. For whoever eats leavened bread from the first day until the seventh day, that person shall be cut off from Israel. 16 On the first day there shall be a holy convocation, and on the seventh day there shall be a holy convocation for you. No manner of work shall be done on them; but that which everyone must eat—that only may be prepared by you. 17 So you shall observe the Feast of Unleavened Bread, for on this same day I will have brought your armies out of the land of Egypt. Therefore you shall observe this day throughout your generations as an everlasting ordinance.
Exodus 12: 13-18 NKJV