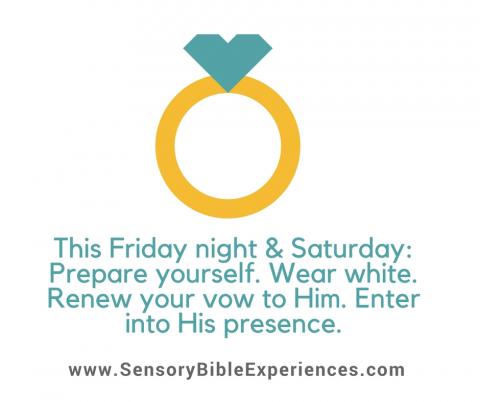 (Image of wedding ring. This Friday night and Saturday. Prepare yourself. Wear white. Renew your vow to Him. Enter into His presence. www.SensoryBibleExperiences.com)
God created appointed times to help us focus on Him. While Jesus had to be the atonement for our sins when we couldn't be, the Word and His appointed times within it don't change. This divine appointed time is a solemn one of introspection and repentance designed to really search our hearts, yet also a beautiful wedding celebration when we can yearly recommit ourselves to our Loving Bridegroom who gave Himself up for us as only a selfless One could. It can be a blessed time of spiritual cleansing and renewal.
If you've never experienced a Day of Atonement or Yom Kippur service, try this sensory Bible experience this Friday night and Saturday at a loving Messianic congregation. Plan to wear white to both services, and to fast from sundown Friday to sundown Saturday. It is a time to abstain from food if you are medically able, or something else if your health does not permit it, like television, social media, unkind words, coffee, family strife, etc. Enter in to meet and renew your promise to your Bridegroom afresh. May you have an easy fast, and a rich, fulfilling experience as you enter into His presence.
Leviticus 23:26-28New King James Version (NKJV)
The Day of Atonement
26 And the Lord spoke to Moses, saying: 27 "Also the tenth day of this seventh month shall be the Day of Atonement. It shall be a holy convocation for you; you shall afflict your souls, and offer an offering made by fire to the Lord. 28 And you shall do no work on that same day, for it is the Day of Atonement, to make atonement for you before the Lord your God.
Joel 2:15-27New King James Version (NKJV)
15
Blow the trumpet in Zion,
Consecrate a fast,
Call a sacred assembly;
16
Gather the people,
Sanctify the congregation,
Assemble the elders,
Gather the children and nursing babes;
Let the bridegroom go out from his chamber,
And the bride from her dressing room.
17
Let the priests, who minister to the Lord,
Weep between the porch and the altar;
Let them say, "Spare Your people, O Lord,
And do not give Your heritage to reproach,
That the nations should rule over them.
Why should they say among the peoples,
'Where is their God?'"
The Land Refreshed
18
Then the Lord will be zealous for His land,
And pity His people.
19
The Lord will answer and say to His people,
"Behold, I will send you grain and new wine and oil,
And you will be satisfied by them;
I will no longer make you a reproach among the nations.
20
"But I will remove far from you the northern army,
And will drive him away into a barren and desolate land,
With his face toward the eastern sea
And his back toward the western sea;
His stench will come up,
And his foul odor will rise,
Because he has done monstrous things."
21
Fear not, O land;
Be glad and rejoice,
For the Lord has done marvelous things!
22
Do not be afraid, you beasts of the field;
For the open pastures are springing up,
And the tree bears its fruit;
The fig tree and the vine yield their strength.
23
Be glad then, you children of Zion,
And rejoice in the Lord your God;
For He has given you the former rain faithfully,[a]
And He will cause the rain to come down for you—
The former rain,
And the latter rain in the first month.
24
The threshing floors shall be full of wheat,
And the vats shall overflow with new wine and oil.
25
"So I will restore to you the years that the swarming locust has eaten,
The crawling locust,
The consuming locust,
And the chewing locust,[b]
My great army which I sent among you.
26
You shall eat in plenty and be satisfied,
And praise the name of the Lord your God,
Who has dealt wondrously with you;
And My people shall never be put to shame.
27
Then you shall know that I am in the midst of Israel:
I am the Lord your God
And there is no other.
My people shall never be put to shame.
Footnotes:
Joel 2:23 Or the teacher of righteousness
Joel 2:25 Compare 1:4
New King James Version (NKJV)
Scripture taken from the New King James Version®. Copyright © 1982 by Thomas Nelson. Used by permission. All rights reserved.