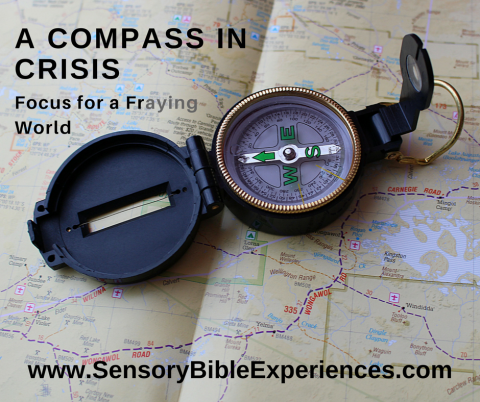 (Image: A compass laying on a map book with text that reads A Compass in Crisis: Focus for a Fraying World.)
Are you on distraction and crisis overload? Sense and focus seem more elusive than ever. Many of us turn to prayer and the Bible (readily available in several formats, languages, and versions online and off) for guidance only at the chaotic intersections of life, but what if your favorite Bible version wasn't there next time? Many of us have several Bibles at home, yet we barely set aside time to read one chapter of them a week, even thought it is our only tried-and-true compass in crisis, and our go-to focusing tool in the middle of the feasts, famines, and fires of life. Most of us live in countries where we can freely read or hear the Bible's text, yet often take it for granted. What if it became illegal to do those things? How would you handle life without the words of our Creator?
Simchat Torah is a Jewish holiday which occurs at the end of the Feast of Tabernacles, and is the culmination of the autumn holiday season. It celebrates the Torah – the first five books and foundation, of our Bibles. It is often quoted, said or written that the Word of God is a tree of life to all who take hold of it. The Gospel of John states that the Word was made flesh- Jesus or Yeshua is simultaneously the Root and the Living Word Who offers eternal life to all who will receive Him, and He is the One who gives new life to all who embrace Him. In this context, the Author and His written work are one.
Value the Word, feast on it, memorize it, let it comfort and guide you, let it bring you joy, but most of all, let it bring you back to your true focus and purpose: To love its Author, and to share His love.
And the Word became flesh and tabernacled among us. We looked upon His glory, the glory of the one and only from the Father, full of grace and truth. (John 1:14, Tree of Life Version)
Happy Simchat Torah (Joy of the Torah)!
- Selah Cohen, www.SensoryBibleExperiences.com